I think we had even more at last night's gig than on Monday!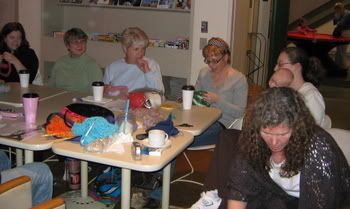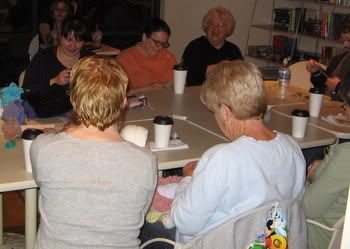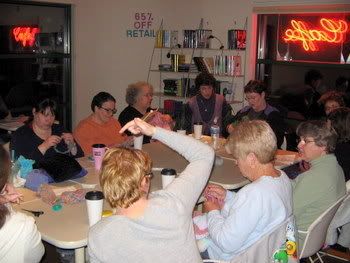 Darcy shows off the bag she created out of a Clinique bag she had...it's made from her stash of
Cotton-Ease
. She knit a bit larger than the bag dimensions, and then sewed the knitting to the bag with invisble thread - it looks even more stunning in person:
And as if we all weren't stunned by Darcy's bag, Jeanne walks in with the most amazing sweater! She pulled it together from yarns out of her stash: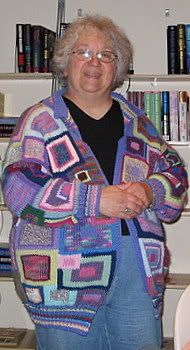 Jeanne also allowed us to pet her new
Lorna's Laces
from our recent road trip to Galena:
Meanwhile, my friend
Jo
was in for the day and came to knit with us (yes, she knit the shawl she's wearing - on a bet):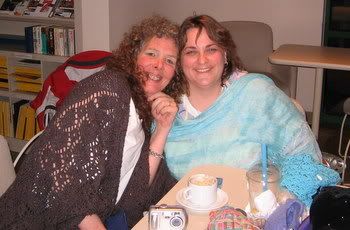 She had
Bernat sock yarn
and
Elann baby silk
:
Linda (and her husband, Jeff) was in with her boo, Grant - we've all got a crush on the little man: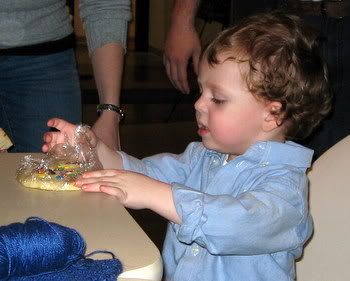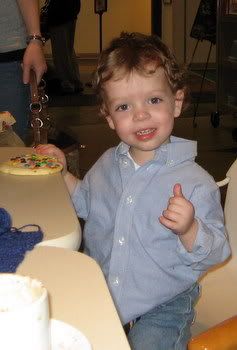 And a shot of Jeff:
Then Sara was in the room, with our newest little guy, Noah:
And he looked great in the knitting she had created for him before his birth!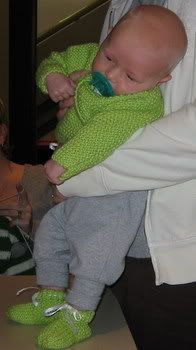 Finally, Karen told us about her knitting retreat to Mexico and showed us beautiful work she bought while down there (baby christening blankets):